Monthly Archives:
June 2011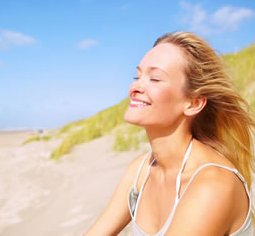 This morning I had another patient ask me what is the one thing they can do to keep their skin looking younger. My answer is  always the same. . .
you MUST use sun block
!
People often think that a tan will protect them from the sun's harmful rays. Not true. The sun causes damage that accumulates over time. An innocent 'little bit of color' today leads to the brown spots, wrinkles and sagging jowls tomorrow. Go ahead and enjoy the warm sunny days of spring and summer but don't forget to use a sun block with SPF 30 or higher to protect your skin from those damaging sun rays.
We all know many strategies to use to avoid sun damage, but I think it is worth mentioning them again:
Cover up with clothes– dark colors are best because they absorb sunlight. Polyester garments are usually more protective than cotton or linen, but it depends on the weight and weave (sun light gets through holes!). There are even some clothes marketed as sun-protective using the ultraviolet protection factor (UPF) rating developed in Australia, the country with the highest rate of skin cancer in the world. A UPF of 15 or higher is good.
Watch the clock – avoid extended exposure between 10am and 3pm
Don't trust the clouds or shade – on cloudy days ultraviolet radiation levels are almost the same as in sunshine. And while being in the shade is better off than in the sun, you can still be affected by the sun's rays.
Check your altitude – studies at Harvard show that the intensity  or radiation increases by about 4% for every 1,000 feet in altitude
For those of you who can't resist getting a 'healthy' tan there are a few safe alternative self-tanning products that I recommend to
my patients such as my "Safe Tan Sun Free Tanning Lotion" or  Jane Iredale's "Tantasia"  (both products are available in the office)
I frequently get questions from my patients through my newsletter. The following question appeared in the May newsletter and since it is a common question that I get this time of year I thought I'd share it with you. . .
        "Help! I'm 48 years old and my daughter is graduating from high school in June. We'll be seeing friends and family who we haven't seen in years and I want to look my best! I have wrinkles around my eyes and mouth and dark spots on my face and hands. Which treatment will help me?" Joanne M., Hauppauge, NY
       Joanne, this is a common question and your treatment options depend on your skin and the type and severity of your wrinkles and brown spots. You may benefit from Thermage CPT, a non-surgical treatment which tightens loose and sagging skin anywhere on your body (including those delicate eyelids). You may also be a good candidate for one of our Fraxel laser treatments which remove brown spots and wrinkles as well as improve the tone and texture of your skin. It is possible that you may benefit most from injectables, such as Botox, Restylane, Juvederm, Perlane or Radiesse which help smooth your wrinkles (including your crow's feet, the number "11" lines on your forehead and your smile lines) and restore volume to your face.  Plus we offer other laser, light and skin treatments including a combination of treatments that can help you.
Joanne, as you can see there are many options to choose from and coming to our office to be evaluated is the first step in designing a treatment plan that will be best for you.