Monthly Archives:
December 2012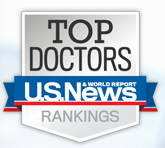 Alexander J. Covey. MD has recently been recognized as a top doctor in the U.S. News & World report list of Tops Doctors for 2012. Dr. Covey is honored to be awarded this prestigious recognition.
U.S. News and World Report Top Doctors recognition is based solely on nominations made by peer physicians. Nominated physicians are screened by a physician-led research team that performs an extensive review of the nominee's background, credentials and experience and combines this with data compiled by Castle Connolly's "America's Top Physicians". Only physicians that are among the very best in their specialties and in their communities are selected for inclusion. Physicians cannot nominate themselves and cannot pay to be included in this prestigious list.
Dr. Covey is the surgical and medical director of East End Laser Care and has been practicing medicine and performing non-surgical cosmetic procedures since 1988 and he is widely recognized as a leader in the field of cosmetic and laser surgery. With offices in Southampton, Manhattan, and Center Moriches, Dr. Covey specializes in the most advanced alternatives to plastic surgery. He was one of the first in New York to introduce Cellulaze™ laser, the first and only long lasting treatment for the appearance of cellulite and Thermage™ CPT, the non-surgical skin tightening procedure for the face and body, and was one of the first to introduce the Liquid Face Lift (also known as VolumaLift™), Fraxel re:store DUAL™ lasers for skin resurfacing, and he was the first physician in Long Island to offer the breakthrough treatment Fraxel re:pair™ Laser Treatment for skin resurfacing and wrinkle removal. Dr. Covey also offers Exilis™ for skin tightening and fat and cellulite removal and Smartlipo TriPlex™ a laser assisted lipolysis for fat removal and body sculpting. Dr. Covey offers treatments to correct everything from wrinkles, facial veins, age spots and rosacea to sagging skin, droopy eyelids, love handles and cellulite.
Dr. Covey is the author of "Ageless Beauty: An Insider's Guide Advanced Alternatives to Plastic Surgery" (Mill City Press, 2009), "Forget the Knife: A Complete Guide to Cosmetic Rejuvenation Without Surgery" (Mill City Press, 2007) and has been quoted by numerous publications including Newsday, Prevention, Men's Health Magazine, Hampton's Magazine and Dan's Papers. Along with his recent recognition as one of the top doctors in US News & World Report's Top Doctor 2012, Dr. Covey has also been named by the Castle Connolly Guide as one of the "Top Doctors" in New York for the last nine years and in 2009 was named one of "America's Top Physicians" by the Consumers' Research Council of America. He is a board certified physician who has been helping patients look years younger with his non-surgical treatments.
For more information about US News and World Report Top Doctors listing as well as the cosmetic treatments offered by Dr. Covey's office, please contact East End Laser Care at (631) 878-9200 or visit their website at www.drcovey.com. Dr. Covey would enjoy discussing your cosmetic concerns at a complimentary and confidential consultation.