New Exilis Transforms Appearances!
We are thrilled to introduce Exilis™, the most exciting new non-surgical technology available to redefine your face and body, with no anesthesia and no downtime. Clinically tested and FDA approved, Exilis uses the most advanced radio frequency energy to tighten loose skin, melt fat and resculpt facial and body contours during fast, comfortable and painless treatments.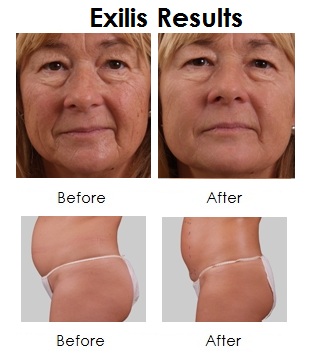 Exilis gives us maximum power with total control. Now we can safely and effectively deliver the right amount of thermal energy in order to tighten, firm up, and tone sagging skin and reshape and melt stubborn fatty deposits anywhere on your face and body – with no incisions, no anesthesia, and no downtime! Popular areas treated include the face, jowls, neck, chest, back, "love handles", "bra fat", abdomen, thighs, hips buttocks and knees.
Here's how Exilis works: a computer controlled hand piece is guided over the treatment area precisely delivering the most effective amount of the revolutionary monopolar radio frequency (RF) thermal energy in order to give you the best result.
For skin tightening, the RF energy is directed straight to the dermal layer of your skin. The energy stimulates the collagen layer causing it to remodel into a stronger, more youthful configuration resulting in firmer skin.
For fat reduction, the RF energy targets the fat deposits located deeper under the skin. The liquefied fat is then excreted by your body's own natural processes resulting in a slimmer looking silhouette.
Exilis is painless so it does not require any special numbing cream or anesthesia and, best of all, you can resume normal activities immediately after treatment!
For best results, we recommend a series of quick treatments designed to fit your needs. Results are immediate and progressive. Many patients may see results immediately with optimal results visible within three months of the treatments.
Call us today to see how Exilis can help you look your best.